Details

Category: Food
Hits: 889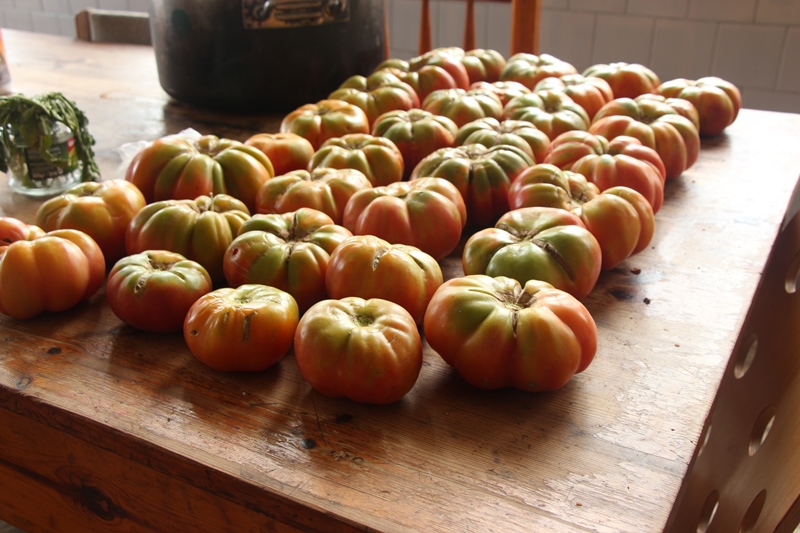 For Movement Of Life, Sofia Matsi
Waking up early in the morning to help out transplant young curly lettuces, later on help prune and support an entire section of healthy looking tomato plants and around noon participate in preparing lunch for all 30 residents on site – is only a small fraction of all the activities that take place daily in the versatile community of Can Masdeu.
This summer, I had the great privilage of sharing some days along with the well-known pioneering community of Can Masdeu in Barcelona, Catalunya. As a guest, hosted in the community´s installments, I had the chance to participate in all sorts of activities and special events and get to truly experience the inspiration behind the community of Can Masdeu.
Can Masdeu Valley is a project in existence for almost 13 years now. With the eyes of an aspirational agriculturist, I must confess that what they have managed to achieve in a little over a decade, without any previous experience in agriculture or home-management (water, electricity, waste), demonstrates a true dedication and wise design and realization of plans.
With projects ranging from the community gardens, the well-visited social center and the agricultural projects based on the Permaculture Network of Barcelona, leaves no doupt why the valley of Can Masdeu is so warmly embraced by the local community as well widely receives the recognizion of organizations and similar communities from all over the world.
During my stay at Can Masdeu I had the great privilage to discuss with one of the founding members of the project, Arnau Montserrat. Arnau is in charge of guest coordination at the community as well as handling the valley´s web and political issues communication in addition to anything that can occur throughout the day in a valley where they produce, process and cook their own food and take care of their wáter and waste management themselves.
S – Arnau why did you choose this location for Can Masdeu Valley?
A – Our main goal was to remain in the city of Barcelona. We wanted something that would be located on this rich natural environment of Collserola's mountains and at the same time not be too far from the city so our community members but also visitors during open-day events, would have an easy access from the valley to the center of Barcelona and vise-versa.
S – You mention "we". Was there a pre-existing collaboration among some of you before the community came into a existense in 2001?
A – Yes. The inspiration behind the creation of Can Masdeu project was a collaboration of 4 of its currnet member today. We used to live together in a squat on these very same mountains. Back then we were all involved in enviromental activism as well as the antiglobalization movement. We kept feeling it was time for a bigger project and the establishment of a space that could soon host one of our bigger aspirations: An International Gathering on Climate Change. That is how we decided to squat Saint Paus old hospital.
S – How many members has the Can Masdeu community grown to have today?
A – 30 people including kids.
S – Amongst the community members are there common values that its members ought to have?
A – In Can Masdeu Valley there is a great range of ages, interests, skills and specializations. What unites us all though is our love and respect for nature and life. We all strongly embrace the constanly growing sector of Agroecology (known also as Permaculture) which aims for food sovereignty – that is producing enough food to sustain ourselves locally, ecologically and sustainability. Some members of the community are more involved in activism, some have a special interest on ecology and others are more passionate and involved with social issues. Not all of us have the same priorities but that is exactly what makes Can Masdeu community a more well-balanced and steadily growing healthy community.
S – Arnau let´s go back to the initiation of this project and the squatting of the old Sant Pau Lepert Home – what was the challenge behind taking over a deserted hospital back then?
A – The idea behind our squat was to fight for what we wanted and what we needed. The old lepert hospital was a building empty and unused for over 50 years. At the time of our squatting we were in need of a space that could host our gatherings and aspirational agroecology projects and the location and facilities of this deserted hospital could serve this goal perfectly. Even though we had encountered many legal challenges up to now, we have managed to survive and thrive without any legal troubles because of our constant networking with other similar communities and our strong connection with the neighbourhood. Of course the current financial crisis and the legitimate lack of any governmental plans for utilizing this specific site, worked also in our favor. What we have grown to understand though through our experience in Can Masdeu is the importance of working with others as well as the significance of being open to other communities and similar projects in order to create and benefit from strong network. Without this work our existense here as Can Masdeu Valley today would not have been possible.
S – Standing back now 13 years later, do you see the existence of any particular tools that have helped you out construct and form such a strong resilient community?
A – Yes of course. Firstly what we needed was political tools – we had to be very well informed on how we were going to communicate our mission with other people who possibly were not in favor of our initiative and had to create some kind of social support for our project. Some of us took care of media communication and court cases defense while others were more involved with community garden projects, building up strong relationships with the neighbourhood. Of course there were those who were involved in the more physical defense of the space practising any necessary resistense those first critical days of the squat. What we found to be very essential was constructing good internal fasciliation by agreeing and applying logistical communicative and caring tools amongst the community members – tools we have all agreed upon
during the initation of the community and constantly keep open for revising as we go.
S – Today in Can Masdeu Valley there are 5 major projects running. Could you tell us a few words about these?
A – Of course. Firstly we have the community gardens – these, are plots of land in Can Masdey Valley currently ran by groups of people from the neighbouring community and who share gardening tolos, water and compost, in order to plant, grow and harvest their own vegetables. Activities and exhange of knowledge between the Can Masdeu community and the participating locals, is something we strive for and something that benefits both our community and the locals. Another project is the social center ran mainly on Sundays when we get together with the local community and organize meals, speaches, film projections and discussions on current ecology and sustainability issues as well as many kids activities. On Thursdays, which is our open garden days and when everyone is welcome to come in and help out in the garden, it is also a great day to bring in and exchange Heirloom sedes, something that falls under our seed saving initiative and Seed Bank project we are running. Another important part of the Valley is its collaboration with the Permaculture Network of Barcelona and the various Permaculture Projects currently running on the Valley, such as our Permagarden, our edible fruit forest, Bio-Buildings, and workshops we organize on Agroecology. As an extension of this, comes our 4th project under which we conduct workshops on Agroecology in local schools and universities and discuss with students and teachers on the importance of adopting and applying permaculture principles in our gardens and lives. Lastly the mission of forming and evolving a healthy community here at Can Masdeu, is a constant challenge and learning process.
S – You 've mentioned a vegetable garden Arnau – Are you fully sustainable in terms of food here at Can Masdeu?
A – No and that wouldn´t ever be our goal. We produce enough vegetables to sustain ourselves throughout the year, as well as fruit like pears, apples, berries, grapes and figs. We currently do not cultivate grain or enough legumes to meet our needs. Our goal wouldn´t be to become centirely autonomous and independent. We want to remain open to our surroundng community and engage into a healthy and sustainable exchange system that benefits both us and the local community.
S – If someone wants to visit the valley Arnau, how would they go about it?
A – As mentioned above we have open days here at Can Masdeu Valley: Thursdays for working in the garden and Sundays for community/family activities. You can find more information on our webpage and you can always contact us at This email address is being protected from spambots. You need JavaScript enabled to view it. if you have any further questions.
S – Well Arnau I appreciate the time you took to guide me through the welcoming Can Masdeu Valley. I would like to wish you all the best for a healthful and prosperus growth of your powerful project.
A – Gracies Sofia and best of luck in your sustainability projects in Chipre.
*Find out more about the community by going through their FAQ section (only available in Castellano-Spanish).
*You can see more pictures from Can Masdeu projects by clicking on one of the 11 photo folders on the bottom of their webpage.
Details

Category: Food
Hits: 953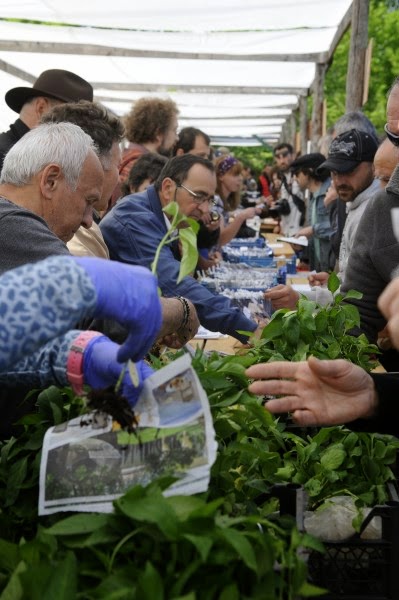 On Saturday April the 26th 2014, the 14th Panhellenic Seed Exchange Festival took place at Mesochori, Paranesti – Greece.
The festival consists the biggest event of seed exchange in Greece and Europe and it is organized every year by Peliti alternative community. Peliti and its unique activities are a result of Panayiotis Sainatoudis – the inspiration behind the group and its general coordinator along with the constant presence and support of his partner, Sofia Yida and the active participation of local groups of Peliti all over Greece.
Agriculturists and seed guardians from Greece and every corner of the world, meet every year in the small village of Mesochori, in the county of Drama, bringing along a range of heirloom seeds with the goal of trading and sharing them with the attendees of the festival.
This year, the festival hosted agriculturists and volunteers from Greece, France, the United Kingdom, Austria, Portugal, Iraq, India and many other countries. Amongst the participants was of course Cyprus with representatives from three groups: Amarandos, Movement of Life Cyprus and Kyprion Sporoi.
The volunteers arrived at the area of the festival up to a week ahead in order to help out with the packaging and organization of seeds that are sent to Peliti central offices by agriculturists and seed savers from all over Greece and the world. The space is prepared with tables, sheds and other functional structures so it can receive the thousands of people who arrive at Mesochori during the day of the festival.
During the week of preparation, as well as the day of the festival, volunteers run a collective kitchen with legumes, vegetables and grains donated especially for the purposes of the festival by Peliti's collaborating agriculturists and friends.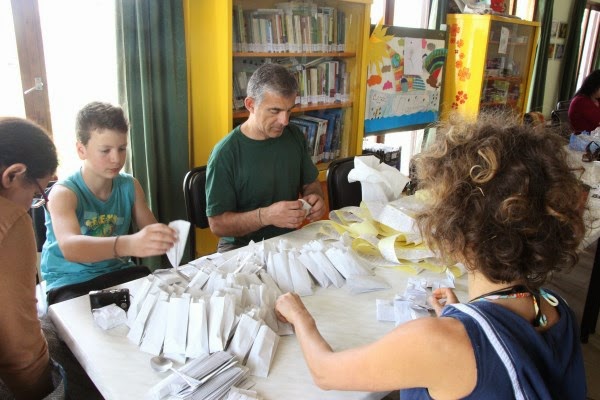 The festival begins on Saturday morning at 10:30 am with the gates opening and allowing hundreds of people in. Each participant receives 4 coupons during his/her entrance which he/she can later on redeem with 4 packages of seeds of his/her own choice. The seed exchange is done without the mediation of money but "from hand to hand and from heart to heart" – as Peliti always supports.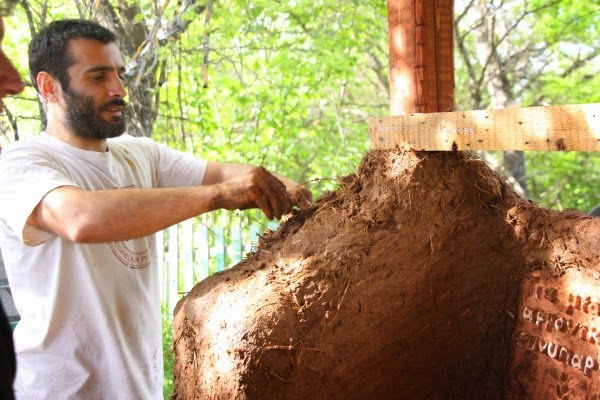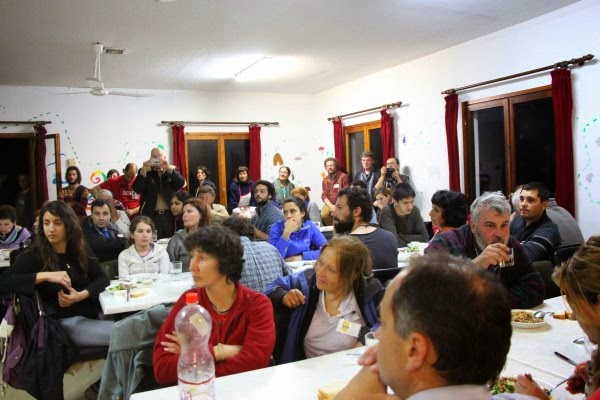 During the day of the festival a series of presentations and seminars takes place on a variety of subjects on resilience and sustainable agriculture. This year, the team of Saligkari analyzed the basics of natural building by demonstrating how to build structures with the technique of cob. Emilios from Miliou Farm in Drama, talked about the importance of organic agriculture and the incorporation of traditional seeds in the production of our food, demonstrating how to plant and how to collect seeds.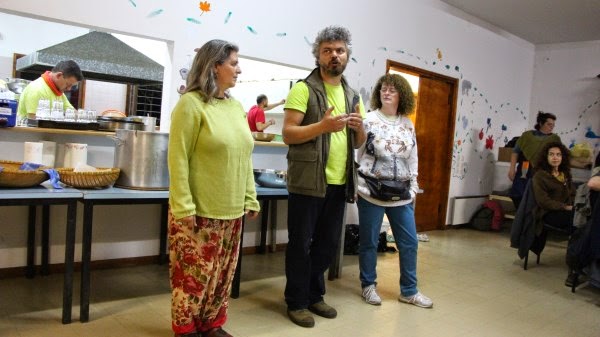 An important part of the festival is showcasing a range of ecology initiatives from all over the world – groups who are currently involved with seed saving and freedom. This year, Cyprus was represented by Sofia Matsi and Dr. George Katsonis, from the Movement of Life Cyprus and Antigoni Agathokleous from the Kyprion Sporoi initiative. The groups analyzed their role in achieving resilience in Cyprus by education and promotion of sustainability tools, among them the maintenance and sharing of our heirloom seeds.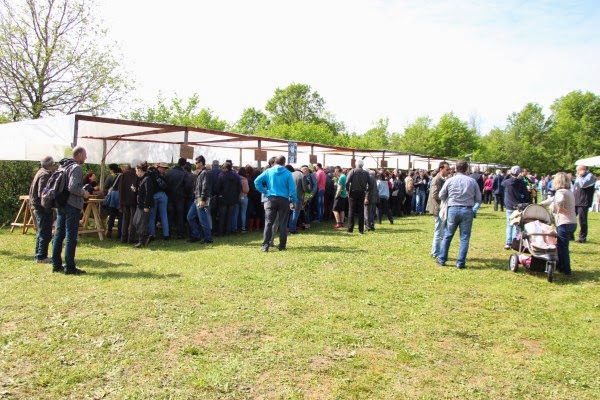 Among the teams who were showcased, was Garden Organic from the UK with Sally Cunningham and Clare Pritchard as well as Longo Mai community from Germany, with Juergen Schroder. Important was the presence of the Seed Freedom movement through Kartikey Shiva, the son of ecology activist and defender of seed freedom, Vandana Shiva.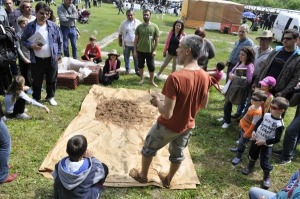 A key ingredient for Peliti's successful festivals is of course good music played live by the "Namaste" band, a band collaborating with the community of Peliti for the last ten years bringing people together from every corner of the world through singing and dancing.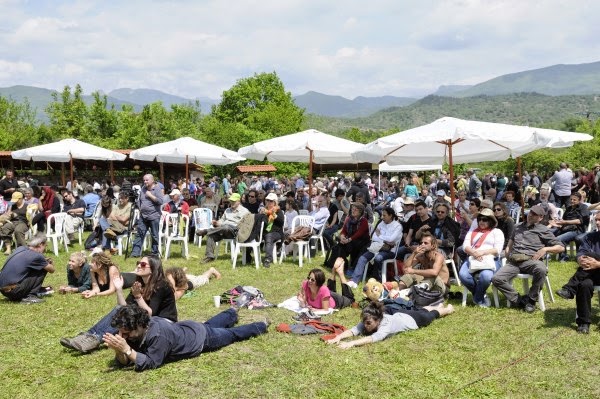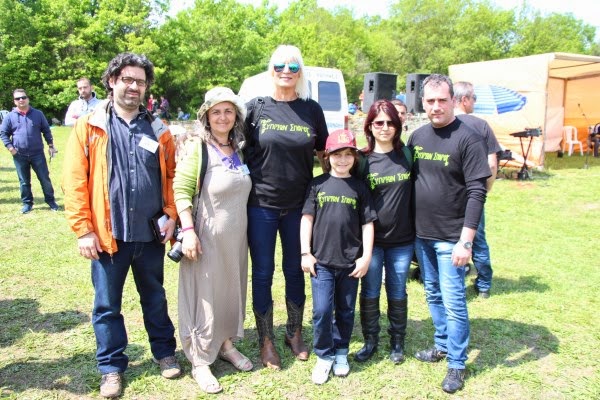 This year, the festival ended with a unique manner: With the initiation of the first International Solidarity Caravan for Seeds. The caravan consists a collaboration of the Peliti community along with the international movement for the freedom of seeds – Seed Freedom, the Navdanya movement and Kokopelli organization from France. The caravan set out from the festival's space in Mesochori, Greece on April 27th and will move through Italy ending in France where it will participate at Kokopelli's International Seed Days between the 1st and 4th of May 2014.
Peliti's Panhellenic Seed Exchange Festival is an experience that inspires every participating volunteer and attendee. It is an event that empowers every single one us to keep up everything we are doing on our effort to create a positive change on our world and turn it to a more sustainable and nature-resonated habitat.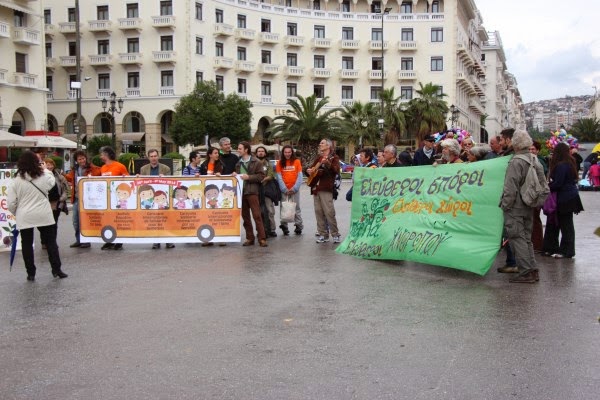 In order to find out more about the Panhellenic Festival and participate in next year's event as a volunteer, stay tuned through Peliti's website or inquire about it by writing to the community at This email address is being protected from spambots. You need JavaScript enabled to view it.
Details

Category: Food
Hits: 1002
An initiative of the Movement of Life Cyprus in collaboration with the team Peliti
The event "Traditional Seeds: Saving and Preserving our Old Varieties" was organized by the local team of the Movement of Life Cyprus in collaboration with the alternative community Peliti from Greece, with the auspice of the Commissioner of Environment, Mrs Ioanna Panayiotou.
The event took place on Saturday, November 23rd 2013, at Solea High School and was attended by more than 200 people. You can find pictures of this event by clicking here.
During the Seed event, our special guest, Aris Pavlos, coordinator of the local team of Peliti in Aegina, analyzed the importance of saving and preserving our traditional seeds while Efi Xanthou, member of the political committee of the Enviromentalist Green Party of Cyprus, explained the need for total ban of genetically modified seeds in the Republic of Cyprus.
During the event all the local teams of Cyprus currently involved in the creation of collective vegetable gardens as well as saving and exchanging traditional seeds, were presented. Among the teams presented were: Agronautes, Amarantos, Anakyklos Perivallontiki, Ellovos, Kyprion Sporoi, Utopia Collectiva and Feed the People.
Important part of the event was the Seed Trade that took place among the attendees with 2000 seed packages being handed out, brought especially from Greece by the team of Peliti along with many Cyprus seed varieties brought in by a number of professional as well as amateur cultivators.
During this Seed Event series of activities, the first school vegetable garden in Cyprus consisting entirely out of traditional seeds, was created at Solea High school, with the participation of the school's students and teachers. Also, three radio interviews were realized, that promoted the event: one at MYCYradio, another at Astra Radio Station and Mr Michalis' Loizides show "The Garden of Earth" as well as a short interview at CYBC (Cyprus Broadcasting Corporation) with Mrs Elena Charlambous.
This event marked the official initiation of the effort to save and preserve our traditional seed varieties here in Cyprus. With the obvious interest expressed by a large number of Cypriots, it is certain that this event will only consist the beginning of a series of events to follow related to Saving our Old Seeds as well as Seed trades that will take place all across Cyprus.
To find out more information regarding the event or to become a member of the team, Movement of Life Cyprus you can contact us at:
Phones: 22 512401
Email:This email address is being protected from spambots. You need JavaScript enabled to view it.
Facebook: Movement of Life Cyprus
{gallery{/gallery}