Details

Category: Energy
Hits: 1279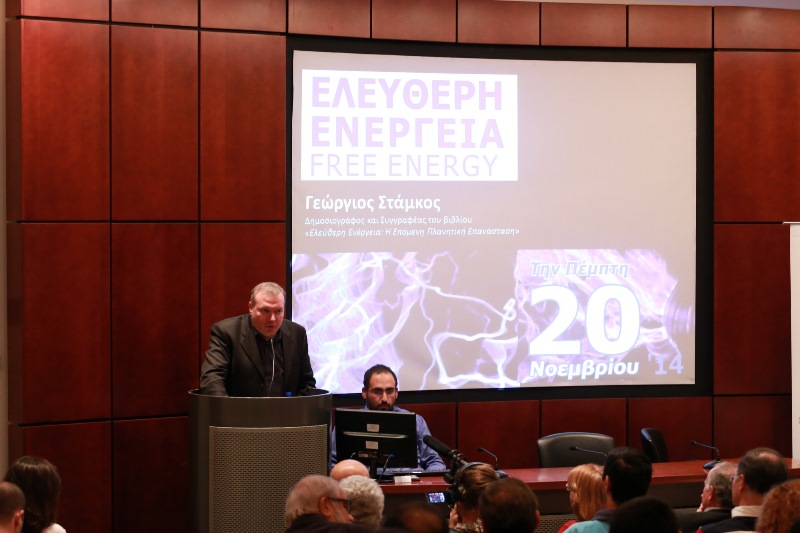 The energy revolution that will save the planet and the human kind from the upcoming environmental destruction.
Yesterday, Thursday 20th November 2014, the first official event on the subject of FREE ENERGY was realized at the University of Nicosia, with the initiative of the Movement of Life Cyprus and with the support of the Center for European and International Affairs of the University of Nicosia.
Speaker at the event was the journalist and writer of the book "Free Energy: The Next Planetary Revolution", Mr. George Stamkos.
During the event a documentary was projected: "Nicolas Tesla: The Prometheas of Electricity" which presented the life, work and visions of the "Father" of Free Energy, Serbian-American scientist and inventor, Nicolas Tesla. Mr. Stamkos gave an interesting speech attempting to answer a series of questions: What does Free Energy mean? What are the ways to except us from our dependence from fossil fuel that are currently destroying our planet? Who and what are the interests that are trying to suppress Free Energy? And finally, how can citizens and societies become energy autonomous and construct a world friendly to the environment based on Free Energy?
The event was attended by almost 200 people and the audience watched the speech with interest and their concerns became a dialogue and exchange of opinions which can lead to more practical results in relation to applying new technologies related to renewable sources of energy in our everyday life.
The event was possible with the help of the non-profit organization Dr. Rath Health Foundation, which always warmly supports all the local and world-wide initiatives of the Movement of Life around Natural Health, Natural Food, Natural Water, Natural Energy and other essential factors on achieving resilience and sustainability.
You can find more information on the world wide initiative of the Movement of Life here, and you can connect with the local team of Cyprus through the blog Movement of Life Cyprus and the local Facebook page. You can become an active member of the group by writing an email at This email address is being protected from spambots. You need JavaScript enabled to view it. or by calling at 22 512401.
To communicate with the writer Mr Stamkos, you can write to him at This email address is being protected from spambots. You need JavaScript enabled to view it.
(Gallery)